" Painting with the light of the crystals from Swarovski
"
Every single Diva's artwork is a universe, inspired by nature, beauty and poetry...
Painting with airbrush or using photography and applying thousands of Crystals from Swarovski®, the final result obtained are volumes, textures and sparkles that appeal and surround. A unique personal style, where the crystals are used by the artist at random without rules, just following the  energy of the moment, and what the artwork inspires her. She creates exclusive and customized creations adapted to the most luxurious and elegant interiors. She works for prestigious brands, celebrities, and private clients all around the world. Her infinite creativity and the use of different supports offer numerous possibilities to play with the «MAGIC OF LIGHT»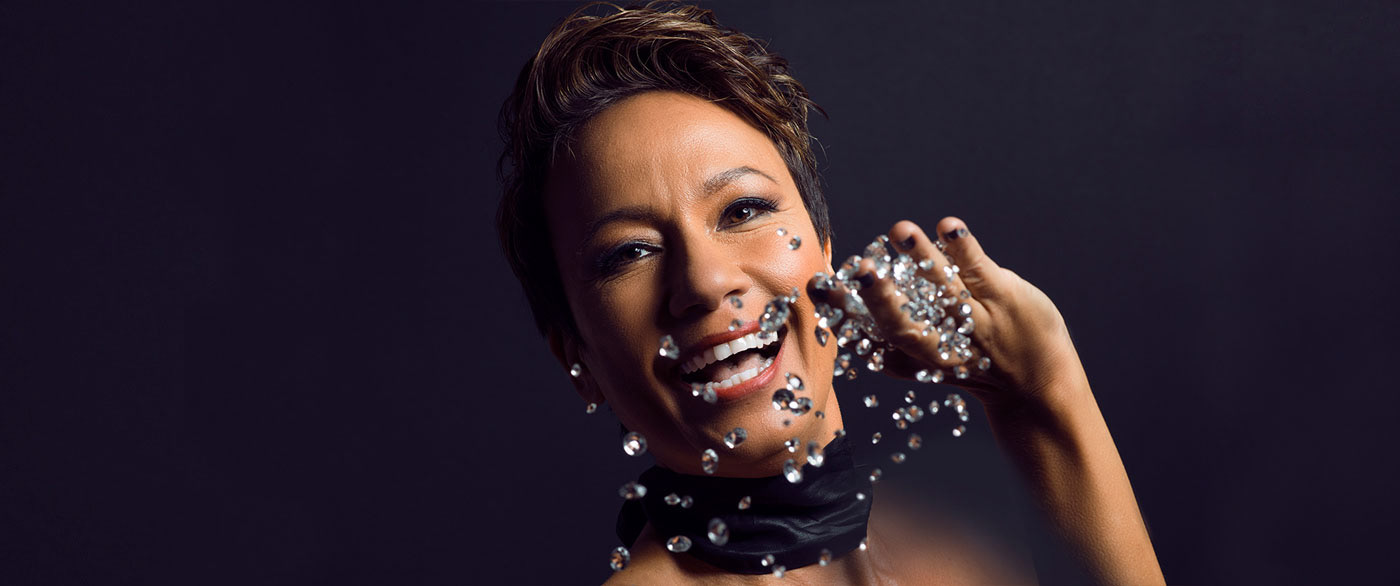 She was born in France in 1972, from an Italian father and a Vietnamese mother, a mixture of cultures that can be seen in many of her art work.
11 years ago she left her hometown to exhibit her work on an international level. She chose Barcelona as her adopted city.
Since then she have taken part at many art exhibitions, Barcelona, Madrid, Berlin, London, Paris, Buenos Aires, Los Angeles, Dubai … and in many events of design all around the world.
When her artwork became notorious and was published in an Art book, she decided not just to exhibit at art galleries; her artwork had to be part of the life of the people.
In 2007 an Architect agency in Paris offer her a project to give a new visual identity to the "Quatres Temps", the mall of the Defence district in Paris.
One year of work gave birth to monumental artwork with coloured stylized meandering on a few floors. At the same time, her encounter with the Swarovski brand allowed her to incorporate crystals to her artwork during an exhibition at the Contemporary Art Museum in Barcelona. Fascinating by this new material, she decided to create a new artistic concept fitting art and luxury home decoration. Mixing art and functionality, she adapts herself to numerous supports (walls, doors, columns…) making from each handmade artwork, a completely unique and exclusive piece of art. Each piece is designed as a coherent universe, emerging from the intimate dialogue between the artist and the piece, in a process in which light plays a starring role. 
Light is the raison d'être, "reason to be" of each Diva creation.
Thanks to the special properties of crystals, which multiply light with their many facets, she is able to introduce light in her art work, bringing shape and colour to her designs.
"She brings life to creations which are a tribute to beauty and elegance"

-
INSPIRATION
Diva's artistic adventure began early receiving her art training at the Mjm School in Toulouse.
Her career path has spanned several decades, exploring such diverse disciplines as dance and painting, encouraging her to investigate different techniques in order to comprehend the soul and movement of physical existence. Her interest in the intangible, the invisible, inspired her, being visible in her creations during a period in which the artist was drawn to Chinese calligraphy.
This discipline, inseparably intertwined with the observation of nature, serves as a great reference and source of inspiration for her work.
"Nature is my main source of inspiration. I am fascinated by everything that nature is able to create, its micro-organic universes are so complex and perfect that they are a mystery to human being. The complex perfection of nature beats any human invention"
Her fascination with flowers, plants and microorganisms world make nature the "Great Book" (as it was referred to in ancient Greco-Roman times) to which she continually turns.
"I love losing myself in the world of different textures and nameless colours. Through observation, I discover textures, shines, volumes and transparencies that nourish my work."
Calligraphy enables her to penetrate deeply into reality, to capture its essence with a look as innocent as creative, that discovers in every shoot and every corner the movement and soul that exist within anything. This is what calligraphers refer to as "chi." It is the élan vital that exists in all creation, including rocks and minerals.
This experience with the movement of physical existence is what the artist skilfully and sensitively transcribes onto the work, the blank sheet, the wall or whatever medium, she is working with. Technique shapes and materializes the idea according to its characteristics.
"In nature, I look for the invisible movement that animates every flower, every plant… This movement, also called chi, is found wherever there is life.
 By carefully observation of every flower, for example, I have noticed that each one has its own movement and way of growing towards the sun, of staying rooted in the ground, of moving with the wind. My job when I am painting is to interpret this movement and represent it."
The diversity of the media with which she works is another constant factor in the artist's career that led her to work with techniques as diverse as paintbrushes, digital photography and crystals to create her works. This continuous process of development is the result of the artist's natural curiosity and a reflection of her interest in change and metamorphosis, concepts that she learns through the detailed observation of nature.
"The beauty of nature is in eternal mutation. Everything changes and transforms, depending on many factors, such as light, temperature and location."
Her endless images in eternal transformation capture this infinite movement of reality in perpetual evolution.
"Constantly changing nature nurtures my own transformations, and those of my work: flowers that are butterflies sprouting branches that look like snakes and that are the roots of a giant tree… "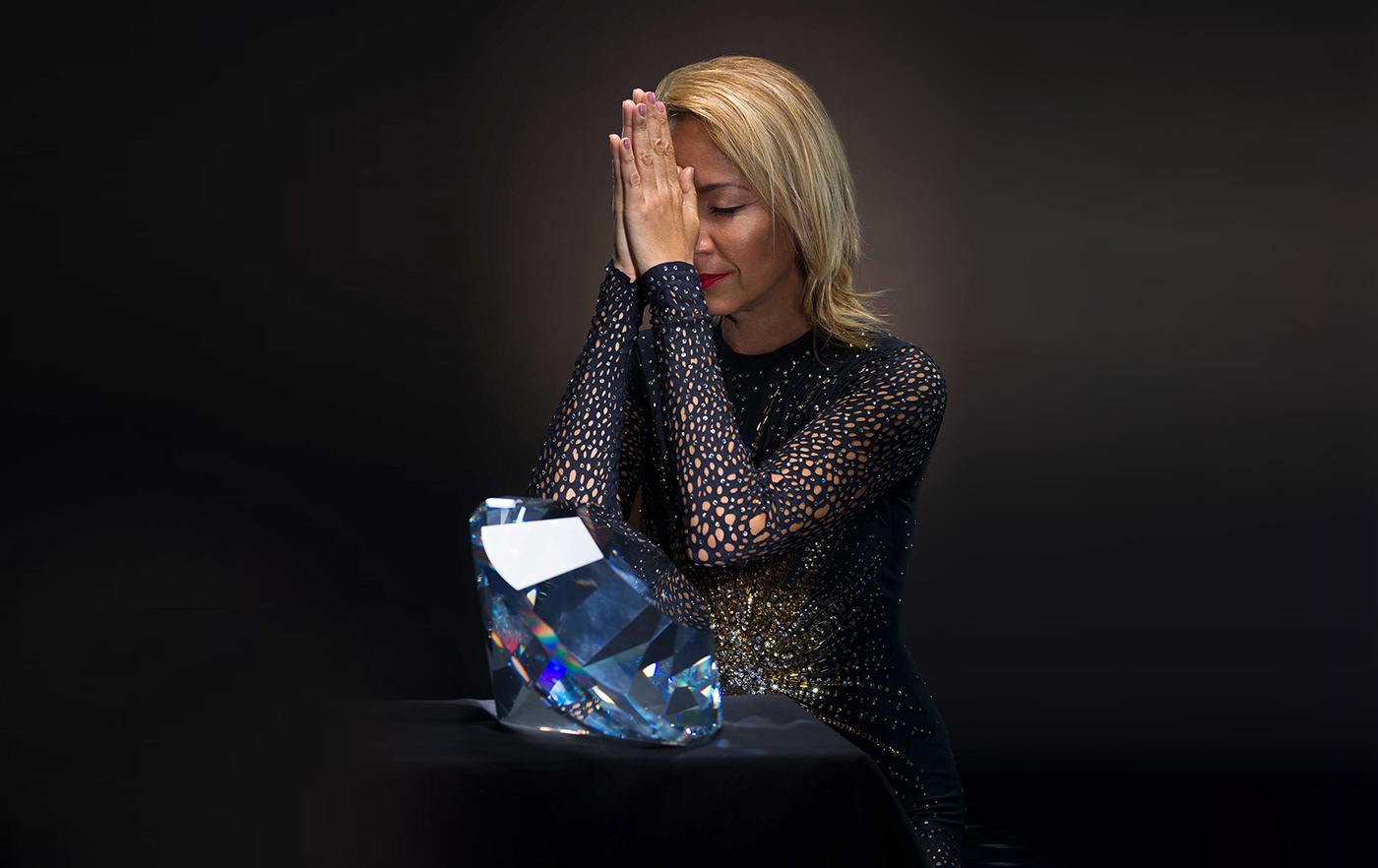 Her work with crystals began in 2003 with "luxurious mites," a series of large paintings that planted the seed for the subsequent wall jewels project. Since then, this solid, yet translucent material has become part of the artist's creative universe, opening up new lines of exploration to work with an element as intangible as poetic: light. On a base of airbrush painting, allowing to be used with almost all supports, Diva applies by hand each crystal one by one.
An alchemy allowing creating three-dimensional effects which impress by their volumes and their reality. 
The relationship formed with each crystal according to its size, facets, etc… is translated into varying shades and textures, transmitting a totally different result to the piece. Different sizes of crystals coexist, capturing and multiplying light in different ways, while the surfaces they cover generate the magic of colours and iridescences and take on the appearance of silk, velvet or water, depending on the combinations.
"Without light, crystals cannot work their magic. Painting with crystals is like painting with light. This is what I mean by "light colour." I apply it as if it were any other colour; it's just that it has the magical power of transforming into all of them."
The capacity for metamorphosis that light gives crystals is transferred to pieces created using this material. "As in nature, its attraction and beauty are in perpetual transformation" since the result always depends on the intensity of the light or the colour behind each crystal. "Jewels of light" condenses this continually expanding universe into unique artworks.
"Crystals never cease to amaze me… They can't be completely controlled. It's as if they are alive."
She create art works, symbolic landscapes made from more than 10,000 crystals Swarovski Elements, all carefully hand-set by the artist, with nature as their great source of inspiration.
- Cannes Fim Festival solo show/ Cannes France, " Venus of the Chaos"/ 2017
- Private wedding live performance / Château de la Loire Paris France / 2017
- Hotel Pulitzer/ Barcelona, conference and live performance " The Light into Art"/ 2017
- Airbus industry / France, private exhibition for VIP Arabic customers / 2017
- Conference and exhibition / Barcelona, "The light in the art"/ 2016  
- Art people exhibition / Los Angeles, "Salvaje'" art work and performance / AWARD/ 2015
- VIP first class show / Madrid, "Light and shadows", art work and performance / 2015
- DIB exhibition  / Bombay India, "Silver dream", art work and performance / AWARD/ 2014
- "Le privé" Luxury space / Barcelona, "Light and shadows installation", Backlighted floating silhouettes art work / 2014
- "Excellence" Luxury fair / Barcelona, "Diva´s Garden", Backlighted floating silhouettes art work / 2013
-"Index" design Fair / Dubai, launch of "Bliss" limited edition switches and live performance / 2013
- "Euroluce" lighting fair / Milano, "Ephera Nera" Backlighted bas-relief art work /2013
-"Index" design Fair  / Dubai,  launch of "Light Flowers" "Firmament" limited edition switches and art work / 2012
-"Index "design Fair / Jeddah, presentation of "Purple Queen" Picture / 2012
-"Index" design Fair / Dubai, presentation of "Roses of the desert" picture and live performance / 2011
- "Euroluce" lighting fair / Milano, launch of "Butterfly of light" limited edition switches and art work / 2011
-"Casa Décor" / Madrid, presentation of "Silver dream" triptych collection / 2010
- "Casa Décor" / Barcelona, presentation of "Sweet Poisson" Collection of Ostrich Eggs decorated with Swarovski Elements. / 2009
-Collective Exhibition, "Espacio Ample" Gallery / Barcelona, "Sweet Poisson" project / 2009
- Collective Exhibition, "Double punch" Gallery / San Francisco, "Luciernagas" project / 2009
- Individual Exhibition "Rojo" Gallery / Barcelona, presentation of Diva's "Sol Negro" Art book/ 2008
- Collective Exhibition "Lacda" Gallery / Los Angeles, "Luciernagas" project / 2008
- Collective Exhibition "Strychnin" Gallery / Berlin "Solo negro" project / 2008
- Individual Exhibition at event "Feel to fly "and "Genesis" video projection / Toulouse/ 2008
- Collective Exhibition at "Fusion 5 Festival" / Cannes "Disenchanting forest" project/ /2008
- Individual Exhibition "Off ample" Gallery con el proyecto Genesis/ Barcelona/ 2007
- Collective Exhibition for "Nike" / Barcelona, "Dragon" Project/ 2007
- Collective Exhibition at "Bridge art fair" / London "Magies noires" Art Work / 2007
- Collective Exhibition "Strychnin" Gallery / Berlin "Magies noires" Project / 2007
- Collective Exhibition "Off ample "/Barcelona "Mutantes" Project / 2006
- Collective Exhibition "Swarovski Crystal Cube" / Barcelona "Black Diamond" Project / 2006
- Individual Exhibition "Belleza y Felicidad" Gallery / Buenos Aires "Illusions" Project / 2006
- Individual Exhibition  "Pacha" Hotel" / Ibiza "Luxury acarids"  / 2006
- Luxury collective Exhibition "Cccb" / Barcelona "Luxury acarids" Project / 2005
- Collective Exhibition "MTV Awards" / Barcelona "Insects Projects"/ 2005
Many projects in different formats make difficult to choose the most significant of the artist, here below you find a brief Summary of some of Diva last projects on different supports.
- " Talismans", serie of 5 exclusive artworks in collaboration with the young and talentous artist Cherkezov Cherkez / 2017
- "Ricky Martin", portrait of the singer / 2017
- "The White Soul", portrait of the make up artist Kristiana Paula / 2017
- "Crystalline", portrait of Angeles Sanchez / 2017
-"The Butterfly of Light", light sculpture for a private mansion in Cannes France / 2016
-"The Snake", exclusive artwork for the Gemma Ginesta private mansion Barcelona Spain / 2016
- "The Butterfly", light sculpture for a private mansion in Geneve Switzerland / 2015
- "Diva´s Garden", Backlighted floating Silhouettes art work /2014
- "Ephera Nera" Backlighted bas-relief art work /2013
- "Purple Queen II" Picture, Art work for the reception of Dubai Swarovski Headquarters /2012
- Exclusive collections of Switches for the company Fontini / 2011-2012
- Doors decorated with Swarovski for a Place o fan Arab princess in Paris 2010
- Mural "First light" at Swarovski headquarters Barcelona / 2009
- "Pasarela Gaudi", stage for Swarovski catwalk / 2008
- Architectural designs for the new commercial centre "la Defense" in Paris / 2006-2007
COLLABORATION WITH BRANDS
The FACE Award / Los Angeles – First prize in the painting photography / 2015
DIB  Award / Bombay – First prize of the best foreign design / 2014